The grocery delivery industry has grown and shown us that it will continue to bloom even in the future.  With the consumers' preference shifting from dining out to home delivery services, the future of grocery delivery is promising. According to statistics, online food delivery is projected to show a revenue growth of 16% in 2022, and by 2025 the number of users requesting food delivery is set to shoot up to 2,897.1 million users. Grocery delivery businesses are constantly acquiring new clientele each day.   With the advancing market base, new business start-ups are venturing into the market with a high thrust and push, enhancing the competition in this niche. We will therefore discuss some of the key challenges that businesses are facing.
Evolving Client Preferences 
The ultimate goal for most grocery delivery businesses is to meet their client needs and attract more by giving them customized services. However, this is a pretty difficult task to manage. Grocery delivery market businesses have raised the bar so high to the extent that customers are spoilt for choice. Such high-level competition shakes the client base, affecting the customers' loyalty to a specific company. In a quest to maintain brand loyalty, grocery delivery businesses develop various strategies to improve engagement.
Shifting Market Prices 
Prices of different commodities are always unstable, from fuel to other food products. Therefore with such fluctuation in prices, it becomes difficult for grocery delivery businesses to monitor the prices, which leads to a struggle in pricing the items. The shifting prices also work to the detriment of the business, especially when clients do not appreciate hiked prices. Therefore the owners of the businesses are torn between coming up with defensive or offensive business prices. It is becoming a case of you are doomed if you do and doomed if you don't. The dilemma lies between protecting profits or retaining the client base.
Managing Client Expectations 
Customers keep the business running; therefore, there is no option other than to satisfy their needs. It has become s difficult for grocery delivery businesses, especially those with contractual agreements with wholesale stores, supermarkets, and restaurants since they act as an intermediary between the consumer and the point of the grocery origin. Therefore it becomes hard to meet the customers' needs considering the gap between the store owners and delivery service providers. Therefore these two institutions should work hand in hand to ensure the client's needs are met.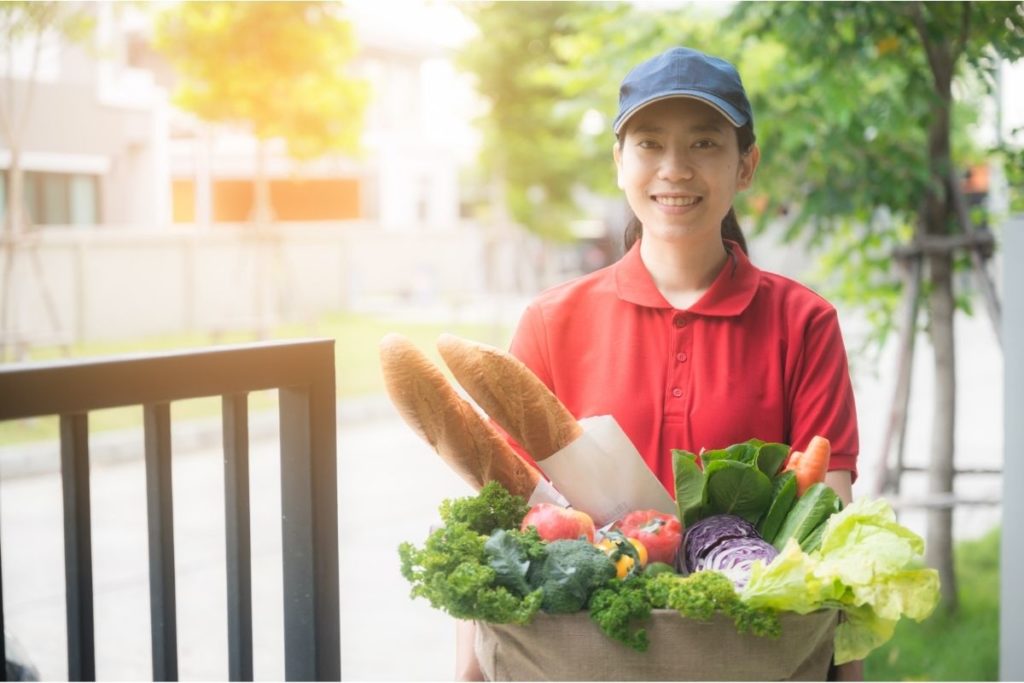 The sensitive nature of edible items 
A small mishap such as taking the food from the basket with bare hands can cost you a client. Therefore you should consistently maintain proper hygiene. Only a few companies have trained their drivers on how to handle food properly. Additionally, the turnover time of the ordered food is also a sensitive matter. Some of the food items are perishable goods, and thus their delivery time needs to be as soon as possible. Poor timing may lead to some of the items getting ruined to an extent where they cannot be consumed. Therefore considering such factors, a delivery business needs to ensure that they are on top when it comes to delivering such perishable products to avoid losing clients.
The Logistics Confusion 
A grocery delivery start-up experiences a lot of dilemmas. Deciding on whether to expand the business to a wider geographical location or concentrate on a specific location, how many delivery vans and trucks are enough for a particular region. These delivery services have to consider all these logistics and find a way to develop a suitable business strategy. Some of the solutions to these challenges can include;
Proper resource management to lower operation costs and boost efficiency and customer satisfaction.
Client-centric strategies
Keeping with the new trends and market evolution. it will mean that they have to  constantly revise the old strategies to create space for the new ones
Exceptional customer service and  support
Threat from Existing Established Businesses 
There are already veteran companies established a long time ago and had already built their brand reputation in the market. It is unfair to compete against such giants, but there is always space for everyone in the market. Matching to their level can be difficult, especially since clients may have certain expectations from your business without looking at it as a start-up.
Bottom Line
Over the long term, the grocery delivery market will continue to prosper. All you need to focus on is to satisfy your clients, and the rest will fall to place. Customer satisfaction includes on-time deliveries, proper hygiene, and delivery of the exact ordered products. Some challenges, such as stiff competition, are unavoidable, and you will have to work through them.  You can use the grocery delivery challenges mentioned above to steer your business in the right direction by avoiding some mistakes such as poor hygiene.