We all like to eat but shopping for this food is where we draw the line. Long queues in supermarkets, crowded marketplaces, and the desperation to relax after a long week of working nonstop have reduced us to a service-dependent delivery community. In a world where time crunch is constantly crunching harder on us, we are more than delighted to have someone else carry out grocery shopping for us. So why not take advantage of this problem and be the hero. However, before you think of coming to our rescue, you have to conduct market research.
When launching any business startup, you have to learn about your market and everything related to that field, including advertisement and license laws. Once you learn the dynamics of the grocery delivery business, then you can proceed to make your killing. Here are some simple steps to help you begin your grocery delivery business.
Explore all the Options on the Table 
There are many ways to carry out a grocery delivery business. For example;
You can register your car, truck or motorbike with a supermarket or any other vendor so that you can deliver their items to their clients.
You can establish a contract with a  grocery wholesaler and deliver goods to your clients at a profit.
Also, you can decide to start up your store and carry out the delivery.
Start up an online grocery store where your clients place their orders, and you make the delivery.
Deliver food and beverages for restaurants that do not want to employ delivery service staff
Whichever methods you choose, ensure you have the capital and the right tools to keep it rolling. Also, ensure that you gain profits to keep your business going. For example, entering into a contractual agreement with a wholesaler may guarantee you more profit than carrying out deliveries for a supermarket. However, it also involves doing a lot of marketing for your business which you will not have to do when doing deliveries for an already established supermarket. Therefore you need to weigh the pros and cons of each method and come up with an informed decision.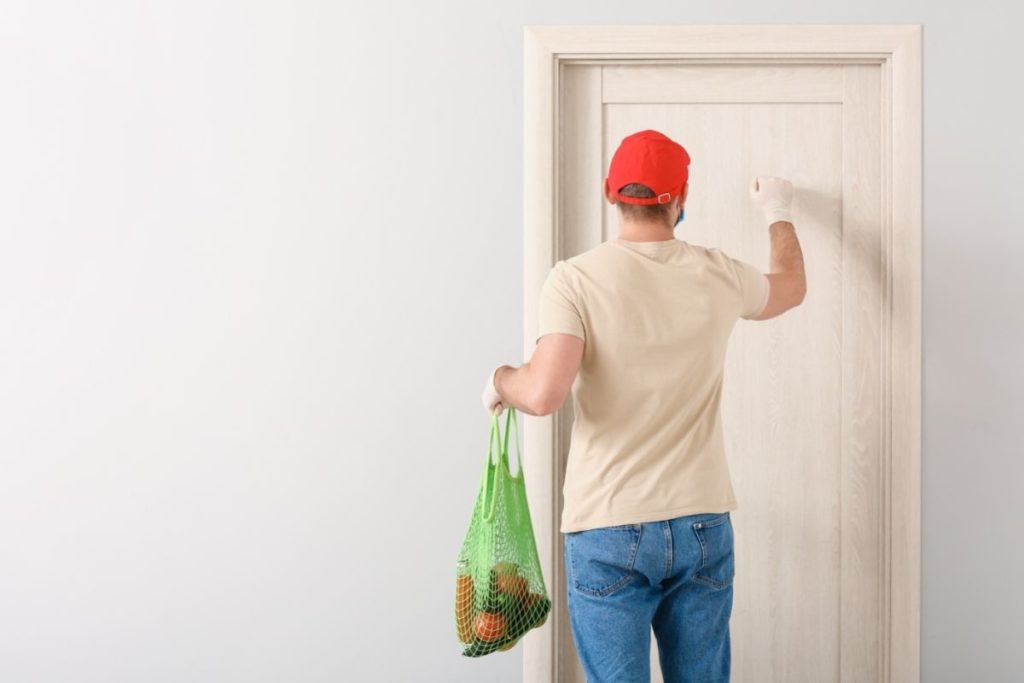 Know your Competitors
The grocery delivery business has been embraced by many people thus far. Hence you need to understand that you are not the only one in it; for this reason, you need to take a keen look at your competition and learn how they go about their business. Note where their services are insufficient and try to perfect such areas to give your business a competition hedge. For example, if your competition delivers grocery foodstuffs, you can try out hitting the weekend farmers' market to help your business stand out. You always have to keep asking yourself what you are doing differently that separates your business from the rest. Moreover, understanding your competition may help you decide which niche to concentrate on.
Get your Economic Cost Analysis right from the Word Go 
Over and above any delivery startup business owner's financial planning must not only be limited to a delivery van, truck or motorbike. A cost analysis on branding and how to build a robust client base should also top the list. Once you can build a strong client base, you will maximize profits and build the business further. Therefore to build a successful business, you should try as much as possible to adopt the best business practices in the industry.
The grocery delivery business is not exactly a green market. It has been there for a while; as a matter of fact, you will meet many delivery vans and trucks belonging to different delivery companies across major cities in America. So if you are creating your economic cost analysis, you need to come up with an all-around plan that incorporates the purchase of these vans and trucks and the cost required to run the business successfully.
Choose the Best Legal Entity (LTD, LLC S-Corp, C-Corp)
The legal entity you choose will determine how big your company can expand. Therefore before deciding on which one to use, you have to be ambitious at least. Focus on where you want the company to go. If you want to create a franchise, then you may want to avoid selecting the S-corp. The S-corp is ideal for a small-scale grocery delivery business.
If you intend to grow a big business, then choosing a limited liability company will cut it for you. Most people prefer setting up a limited liability company since it will protect you from personal liability if anything goes wrong. Take your time to go through the regulations guiding these legal entities; then make your decision from there.
Final Take
The grocery delivery business is transforming since people are finding new ways to carry out this business. Therefore before hopping on the treadmill, you need to plan how far you want to go then come up with a strategy for that. Grocery delivery is not just about driving down to the nearest grocery store and getting the requested items. You have to come up with a long-term plan that will ensure the future success of the business. We hope that some of these tips will help you when you finally decide to try out your new business venture.