When it comes to launching eCommerce campaigns, only a few of us know about Amazon Advertising. Advertising your products on Amazon is an effective way to reach users when they are ready to buy. It's a great fit for your business if you want the best optimization, analytics, and exposure! If you are new to the world of Amazon Advertising, here are few things you need to know about advertising on Amazon.
What Is Amazon Advertising?
Advertising on Amazon is similar to Google advertising. Every seller wants to be at the top when a customer types in a keyword in the Amazon search box. Amazon advertising lets you accomplish these using particular keywords, which will lead to higher visibility in the Amazon SERPs. This system enables millions of customers on Amazon to see your product while you only pay for those who directly express an interest.
Why Should You Use Amazon Advertising?
Like we all know, Amazon is one of the largest e-commerce platforms in the world. The company has invested a lot of money to improve people's shopping experience through Amazon advertising. Use Amazon advertising if you want to:
Upsell your products.
Target the right kind of customers.
Increase your brand awareness.
Gain more visibility on Amazon's search pages.
Steer shoppers away from your competition to your product pages.
Who Can Qualify For Amazon Advertising?
Amazon Advertising is available to anyone with a Seller Central account, but you need to have a Vendor Central account to unveil its potential. This will let you create any ads and sell your products through Amazon.
How Does Amazon Advertising Work?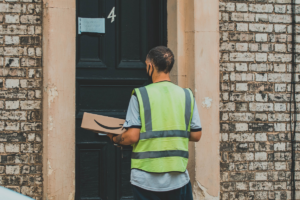 Amazon Advertising lets companies reach new customers in each phase of their journey – from awareness to conversion. Amazon Advertising offers different advertising formats. Let's take a brief look at some of the advertising formats available to you.
Sponsored Products Ads
These ads appear within or around product detail pages and search results pages. Because these ads are for individual product listings on Amazon, you can choose keywords or let Amazon target your marketing ad with suggested search terms.
Sponsored Display Ads
Sponsored Display Ads are available to professional wholesalers registered in the Amazon Brand Registry. These ads are displayed based on a selected target group or products. You can target new customers based on their interest in particular products with sponsored display ads.
Amazon Brand Stores
Brand Store is like having a website on Amazon. Stores offer Amazon customers a multi-page shopping experience, with which you can display your product range. With the Amazon Brand Stores, you can design a landing page via the Amazon Advertising platform.
Headline Search Ads
These ads appear in an area with high visibility, and it's perfect for increasing brand awareness. You can create target keywords, custom logos, and headlines with headline search ads. When shoppers click on your ad, it will direct them to a customized page that showcases your products.
How To Advertise On Amazon?
First, you need to set up a vendor or seller account. Depending on the number of products you plan to sell, you can sell as an individual or professional. If you're a first-party seller, you need to register as a vendor, but only by invitation. You're recognized as a third-party seller if you're selling your product through Amazon Seller Central.
Amazon Seller Central has a pro option for companies with higher sale volume and pay-as-you-go pricing options for independent sellers. Pro merchant sellers have the advantage of letting Amazon manage their customer service, shipping, and returns. Amazon has a Vendor Express option that enables you to bypass the "invitation only" limit. Once you're set, you can start advertising on Amazon and making more sales.
Benefits Of Amazon Advertising
Advertising on Amazon is a no-brainer if you're an Amazon seller trying to increase your sales or expand your brand. Advertising on Amazon comes with many benefits, which include but are not limited to:
Reach more customers
Improving brand awareness
Target shoppers based on search terms
Improving product visibility and sales history
Tracking your marketing results to make data-driven decisions
Optimize ad creative based on performance
Gaining valuable insights on consumer habits
Optimizing marketing campaigns to reach a more targeted audience.
The Takeaway
As it stands today, Amazon Advertising is an amazing platform, perfect for any Amazon seller. It opens up the pay-per-click world beyond display ads and social media, reaching users in a new way. If you want to diversify your eCommerce campaigns for more gains, you need to try Amazon Advertising.