Coding; a promising career
It won't be wrong to say that the world is progressing in the field of technology with every passing minute. Every day, we hear about a new advancement in the tech world. While we can't ignore these adjustments, we do need to adapt ourselves to their diversity. So, when we talk about career opportunities in this modern world, we have to mention coding as one of the real emerging and promising careers.
Learning coding can open many doors for your future. Coding isn't only interesting, but it is also difficult to learn. The only factors that can help you learn to code are perseverance and practice. If you can't get a school education to learn to code, you don't have to worry. As there are some other ways to learn to code too. One of the ways to learn coding is learning it through mobile applications. For a beginner, learning about coding from mobile apps can be helpful and rewarding.
Leading Coding Apps to help you learn Coding
In this article, we are going to list some of the best applications for you to learn to code. Because even if you are a beginner, these apps and today's article have got you covered. Let's see the apps that can make you a pro at coding.
CodeHub
CodeHub is a free coding app, which can help you learn the fundamentals of coding. It's is simple and easy to use. This app was built on the concept of browsing and learning coding. The two main coding languages you can learn through it are HTML and CSS. You can learn in the form of a group through this app. It provides its users with numerous coding examples making it easier for them to learn. The descriptions of coding are very brief and to the point in this app. According to its users, it is considered to be a great platform for learning for beginners. Other than that, this app is built on a very clear interface.
Grasshopper
Grasshopper is one of the best coding applications and can be used on both Android and IOS devices. It provides help to the learners, in learning JavaScript. The app teaches you about variables, methods, and languages of coding. The most incredible part about this application is that it also rewards you with an achievement certificate once you have completed your course. You can both use this app on your mobile device and desktop. Grasshopper has different levels that involve puzzles, quizzes, assignments so that your learning experience becomes more fun for you.
SoloLearn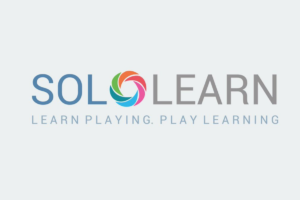 SoloLearn is an app, offering the easiest methods to code. Java, C++, Python, C#, JS, HTML, and CSS are some of the programming languages that you can learn through using this app. The app is available for free and can be downloaded on IOS and Android. The design pattern, algorithms, and data structures are explained in a very descriptive manner in SoloLearn. Its users have given many good reviews about it. One of the most admired facts about this application is assessment modules. Through this app, you will also be able to grasp the concept of web development and accessibility.
SpriteBox
This application is as interesting as its name. It was introduced in 2013. It has a rating of four stars on the play store. It helps kids and adults learn coding using fun methods. The unique part of this app is that its concept is based on solving many coding puzzles. You can learn both swift coding syntax and Java syntax using a different version of phones. The app developers have accurately constructed a storyline for its game. The story unfolds as you continue crossing different stages of the game. The storyline and coding are simple n the beginning but complex at the end.
Mimo
Mimo is an app that can teach you coding in the shortest time. It has a clear interface with a number of intriguing tutorials. It provides you with free courses and also a reminder regarding daily lessons. It works just like a school classroom, where you have to go daily to learn apart. Gradually, these lessons become easy for you. You can only use this app on your IOS device. You can learn Java, C#, C++, SQL, CSS, HTML, Ruby, Python, and Swift by using this app. This app has gained the attention of many people and institutions. Even though it was designed for people above 18 years, it is still being used by kids above the age of 7 suggesting that this app is doing great.
We hope this article helps you in trying to learn coding as a beginner. Best of luck with your learning experience!